North Monroe Corridor Project 2018
Results of Surveys and Public Feedback
The North Monroe Corridor Project underwent extensive public outreach in an effort to capture various viewpoints, refine scope, and prepare for construction. The City of Spokane utilized a nine-member Advisory Board made up of business owners, property owners, residents, and citizens to finalize scope elements and bring a preferred alternative to a Public Open House in January of 2017. Nearly 700 people filled out an online survey to let the City know where they stand on the project. Business and property owners provided direct feedback through an additional survey. The results of these efforts are provided in the documents below. Based on the information gathered through this portion of work, the City is announcing that it will proceed with North Monroe Corridor Project. The project is now moving to the engineering and design process, with an anticipated construction start date in the spring of 2018. The City will continue to work with all stakeholders to address concerns and keep information flowing throughout the process.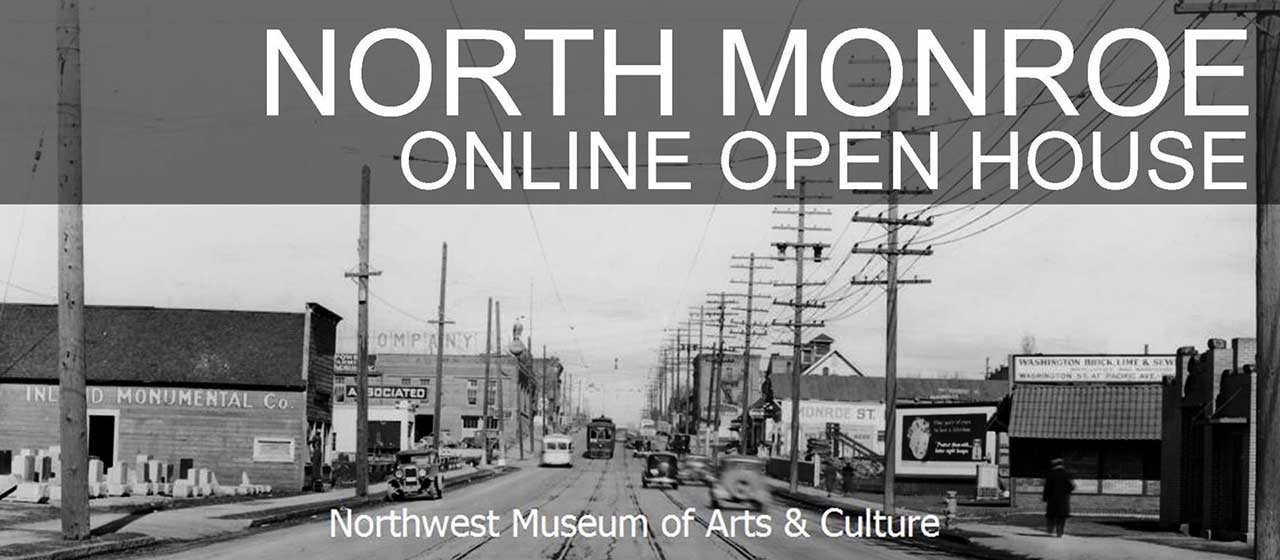 Presentation Materials from January 26th Open House
The City of Spokane is working on a major project to improve safety, enhance the streetscape, and reconfigure traffic on North Monroe Street, between Indiana and Cora avenues. The project is slated for construction in 2018 and will improve pedestrian access and create a more cohesive business area, while continuing to support daily traffic volumes.
The project has received three grants totaling $4.6 million to improve pedestrian safety along this section of North Monroe. The proposed project calls for an enhanced pedestrian environment to include a three-lane section with a center turn lane, decorative pedestrian lighting, benches, transit shelters, new sidewalks, street trees, pavement rebuild, and stormwater management. The project will also include three enhanced pedestrian crossings with yellow flashing beacon lights, additional pedestrian lights, and painted crosswalks.
The City also will invest another $2.5 million to reconstruct the pavement through the project area.
Project elements are supported by the Emerson-Garfield Neighborhood Plan which was adopted via resolution by City Council in 2014. This planning process drew from a large pool of stakeholders including neighborhood residents, North Monroe businesses, and public agencies.
Three lanes
There are many facets to this project but citizens have focused most on the reconfiguration of the street to two travel lanes with the a center turn lane, down from four travel lanes with a narrow center turn lane today.
With around 16,000 vehicles a day on this section of street, North Monroe is a great candidate for this kind of conversion. A three-lane section, as proposed, is proven for serving up to 24,000 vehicles a day without significantly increasing congestion. Studies have shown that such changes reduce collisions and aggressive speeding, improving safety for pedestrians and motorists.
The changes also help to create a better business environment. Customers are more likely to travel the speed limit through a business area and to use the roomier parking stalls. Access from side streets and driveways is improved because motorists only have to cross one travel lane. Pedestrian traffic often increases, as does the use of transit.
This project is about finding balance. The City is working to improve our street and utility infrastructure in an integrated and logical way that balances multiple transportation needs with economic development, neighborhood beautification, safety, and enhanced livability. This project is part of that effort.
North Monroe Corridor Advisory Board
Authorized by and Date: The North Monroe Corridor Advisory Board is authorized by Council Resolution 2016-0045, as approved on May 16, 2016.
Mission Statement/Purpose: The North Monroe Corridor Advisory Board is established to assist the City of Spokane in the implementation of improvements along North Monroe, by providing objective information to the public, creating an accessible process to engage the broader diversity of the community, and providing their own input on the final scope of the work.
Meeting date, time and location: To be announced.
| Member | Representing | Term |
| --- | --- | --- |
| Ed Ardiss, Position 1 | N. Monroe Business Owner | Duration of project |
| Brianna Musser, Position 2 | N. Monroe Business Owner. New/Emerging | Duration of project |
| Dale Westhaver, Position 3 | N. Monroe Property Owner | Duration of project |
| EJ Ianelli, Position 4 | Emerson/Garfield Neighborhood | Duration of project |
| Megan Kennedy, Position 5 | Neighborhood Resident | Duration of project |
| Mike Trautman, Position 6 | North Hill Neighborhood | Duration of project |
| Chris Bornhoft, Position 7 | At Large (Mayor Selection) | Duration of project |
| Mike Wallace, Position 8 | West Central Rep. | Duration of project |
| Jill Leonetti, Position 9 | Business Owner/Riverside | Duration of project |
| Candace Mumm | City Council District 3 | Duration of project |
| Karen Stratton | City Council District 3 | Duration of project |
*All members are appointed to serve for the duration of the project committee, which will obtain input to help finalize the scope of the 2018 North Monroe Corridor street project.