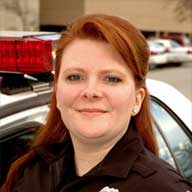 Local girl becomes honorary Spokane Police Officer, nabs the bad guy
Teresa Fuller, Public Information Officer
---
Monday, May 9, 2016 at 3:26 p.m.
The Spokane Police Training Center welcomed a very special new recruit this spring. It was 7-year-old Sierra Shank's wish to be a police officer, and the Spokane Police Department and Make-A-Wish were happy to help make her dream come true.
Sierra received her last treatment for cancer in November, but on this day, she did not have to think about chemo or radiation. Instead, she was focused on what it would be like to be an officer for a day.
Check out the video above to see how Officer Sierra's heroics helped keep Spokane safe!
Photos by Lindsay Powell Photography
Tags
More From Teresa Fuller...
---
---
Latest Tweets
@spokanefire - Yesterday at 11:36 p.m. - Incident: 2017036636 - Structure Fire - Single Engine Location: W Siena Peak Dr and S Parkridge Blvd
@spokanecity - Yesterday at 8:01 p.m. - We're updating our pay-by-phone system 4 utility bills! The system will soon accept a wider variety of credit cards… https://t.co/85jK0BQ97z
@spokaneparks - Yesterday at 4:41 p.m. - Did you know we have open swim times just for parents with children ages 0-7? Check out our Parent Tot program:… https://t.co/vJLZyqe11J
@spokanepd - Yesterday at 2:29 p.m. - Should we feel bad, getting this from a suspect? "Please stop texting me I told you we're done this relationships over I'm not going to call
@sporiverfrontpk - Yesterday at 10:49 a.m. - #Hoopfest2017 Team Check-In starts at 2PM in the Pavilion! Find your way around redevelopment zones with this map:… https://t.co/NopSYHwo1F
@spokane_council - June 20 at 9:50 a.m. - On Monday, (June 26th) the City Council will receive a briefing on the @SpokanePD Staffing Study! Join us! 10:30am in the Briefing Center.
@spd_ombudsman - May 17 at 1:09 p.m. - OPO, SPD + OPOC staff enjoyed breakfast together at Rise for Justice. Thanks to Nicholas Brown, Kris Crocker + Cent… https://t.co/uTTvmIsbOG
@spourbanforest - Nov. 1 at 1:39 p.m. - New podcast, Remarkable Objects, launched by @rethinktrees, Listen in to people and ideas advancing out thinking about nature in cities.