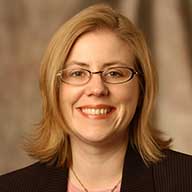 Gateway Bridge coming soon!
Marlene Feist, Director of Strategic Development, Public Works & Utilities
---
Wednesday, October 26, 2016 at 8:58 a.m.
Surrounded by leaves turning brilliant orange, red, and yellow, Spokane area leaders gathered in the University District and spoke eloquently about another symbol of change—the University District Gateway Bridge.
Construction on the long-awaited bicycle and pedestrian bridge that will connect the main academic center of the district to areas south of the railroad viaduct will begin in early spring. Construction bids will be sought in November for the project, and a contractor will be named this winter. The bridge will feature a 120-foot central arch, designed to be a new Spokane landmark.
Mayor David Condon said the bridge was the "perfect next step" in the execution of the 2004 Master Plan for the University District that said the district was "…a bold vision and plan to attract a critical mass of top students, staff and faculty, cutting-edge researchers, and creative entrepreneurs—all of which are catalysts for increased commercialization of technology, growth in our health care industry, and overall economic prosperity for our region."
The Mayor was one of a number of speakers that also included WSU Spokane Chancellor Lisa Brown, State Sen. Andy Billig, State Sen. Michael Baumgartner, State Rep. Marcus Ricelli, Council Member Amber Waldref, and Karl Otterstrom, chair of the University District Board.
Council Member Waldref said the bridge will be a "pathway to prosperity" that will allow people to walk or bike to educational opportunities to urban-style housing and to good-paying jobs.
Additional investment is planned in the East Sprague area, including the reconstruction of Sprague Avenue from Helena to Altamont that's scheduled for 2017, the extension of the Ben Burr Trail, the extension of Martin Luther King Jr Way to the east, and two concrete tanks to control overflows to the Spokane River from combined sewers. Together, these investments are expected to help spur private development and economic growth.
Tags
More From Marlene Feist...
---
---