Stormwater Education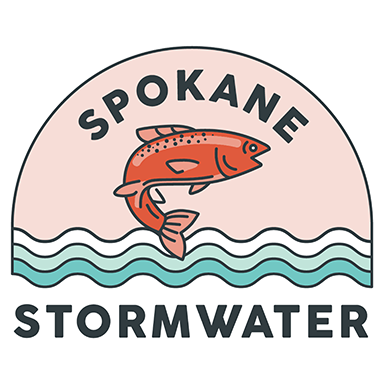 Managing stormwater is key to protecting our river, one way you can help is by installing rain gardens. Rain gardens have many benefits in addition to managing stormwater. They can be incorporated into a site's overall landscaping to provide shade, create wind breaks, absorb noise, improve an area's aesthetics, and reduce irrigation needs. They are also less expensive to maintain than lawn areas or grass swales. Does your yard have a "wet spot"? Where does your roof drain? These are examples of some areas that can become rain gardens.
In 2019, we worked with Spokane Public Schools and The Lands Council on a rain garden to address stormwater runoff at the Spokane Public Montessori School. The parking strip of turf between sidewalk and street made for a wonderful rain garden that will continue to naturally filter stormwater for many springs to come.
Reduce Stormwater Pollution
Spokane residents and businesses can help reduce stormwater pollution by managing wastes properly and reporting illicit discharges into our stormwater system.
What kinds of things are we concerned about?
Sediment: This is often the largest and most obvious pollutant load associated with stormwater runoff. Sediment discharges have been shown to be exceptionally high around construction activity. A number of pollutants can attach to and be carried by sediment particles, affecting aquatic life and water quality.
Oil and Grease: Numerous activities release oil, grease, and lubricating agents that are readily transported by stormwater. The intensity of activities, including vehicle traffic, maintenance and fueling activities, leaks and spills, and manufacturing processes within the City of Spokane all contribute the majority of these pollutants present in adjacent surface waters.
Toxic Substances Including Heavy Metals: Many toxic substances potentially associated with stormwater include metals, pesticides, herbicides, and hydrocarbons. Toxic compounds may affect biological systems, and accumulate in bottom sediments of surface waters. Heavy metals such as copper, lead, zinc, arsenic, chromium, and cadmium may be typically found in urban stormwater runoff.
Nutrients and Organic Matter: Nutrients most often identified in stormwater runoff are phosphorus and nitrogen. In surface waters, these nutrient loads can lead to heavy algae growth and low dissolved oxygen levels. Nutrients from fertilizers, car washing detergents, and animal wastes can enter the storm system.
Bacteria: High bacteria levels may be found in stormwater runoff as a result of leaking septic systems, garbage, and pet waste.
What can you do?
Properly dispose of household cleaners, paints, solvents, used motor oil, antifreeze and similar products. The household hazardous waste areas at the Waste to Energy Facility and Solid Waste transfer stations accept these products.
Follow instructions when applying lawn and garden fertilizers and herbicides and use them sparingly to avoid having excess material washed into the storm system.
Wash your car at a car wash or on the lawn instead of your driveway. The grass acts as a filter as the water infiltrates into the ground. Also, consider using soaps that are biodegradable.
Clean up after your pets and dispose of the waste in the garbage. This reduces the amount of bacteria and nutrients entering groundwater or the storm system.
Conduct grading and excavation projects during dry weather to prevent polluted runoff from leaving your property and entering street drains. Cover excavated material to prevent erosion.
Repair vehicle fluid leaks to keep oils and antifreeze off the ground.
Don't discharge pollutants into grassy swales or biorentention areas.
Reporting Illicit Discharges
Everyone can play a role in managing stormwater and improving the health of the Spokane River. We ask citizens to report spills and discharges of pollutants into storm drains. Please call our hotline at 509.625.7999 to make a report.
An illicit discharge is any flow or dumping to a municipal separate storm sewer of any substance that is not composed entirely of stormwater. There are only a few exceptions to this rule, including discharges from emergency firefighting operations.